Disclaimer: I received a FREE copy of this product through the HOMESCHOOL REVIEW CREW in exchange for my honest review. I was not required to write a positive review nor was I compensated in any other way.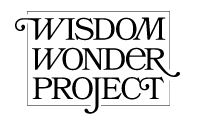 I used the Young Scholars Young Masters Collection from Wisdom Wonder Project with my two daughters over the last few weeks. This program is designed for first grade and up (more specifically grade 1 and 2) which worked out perfectly since my girls are in grade 1 and 3. Art Education is a topic I find is missing from my homeschool because my oldest daughter loves Art so much. It was this fact that convinced me to review this curriculum. I was even more happy I did when I logged on to see the first unit and it was all about Frida Kahlo! My oldest girl has read some books before about Frida Kahlo and I knew this would be a unit she would be very interested in.
The product itself is an online, downloadable resource where you can purchase a monthly or annual subscription. For the Young Scholars group, they have History/Literature, Science and Art units available or you can bundle them together for a better price. The units come with a recommended supply list for you to purchase and it is recommended that if you are using the History units that you purchase the "Story of the World" book. I printed out our Art unit and it was a reasonable number of pages to print. I was glad to have it printed as I found it easier to have at the table with me since I am not overly tech savy. You could also read it from a tablet if you find that easier.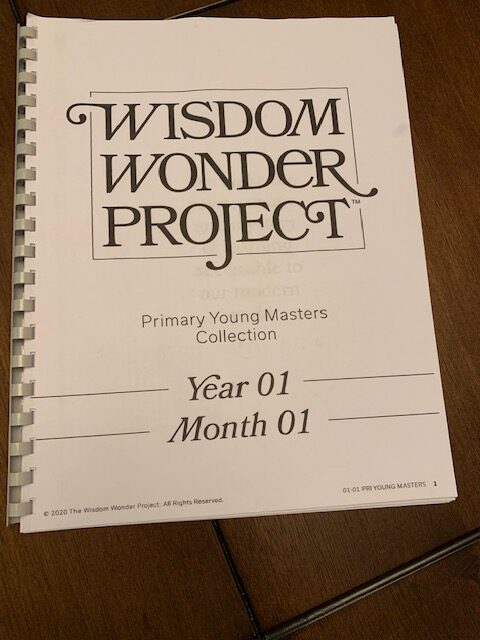 Due to the fact that I already had a History, Literature and Science unit on the go, I used the Art unit for my review. This made sense since it was the reason I had been interested in the company anyways! I downloaded and printed my unit right away and looked at the suggested resources and books. This is where things got a little tricky for me because we live in a remote location. I ordered the books about Frida Kahlo for the unit right away but they didn't come in for weeks! So it was hard for me to begin the unit without the read aloud books. I also needed to wait for a trip to the city to get some of the more specific materials that were needed, such as transparencies. For anyone in a larger centre, this would not be a problem.
The unit comes with a suggested schedule laid out for 3 days a week over the course of a month. Some of the days lessons are very quick, just reading a book or discussin a photo. Because we had never done anything like this before, my girls had a tough time discussing the photo and why the artist would have made certain decisions. They really enjoyed hearing about the author through the books about her as well as doing the projects. Each Artist – Inspired Project was based off of one of the works of art by that artist that we had looked at.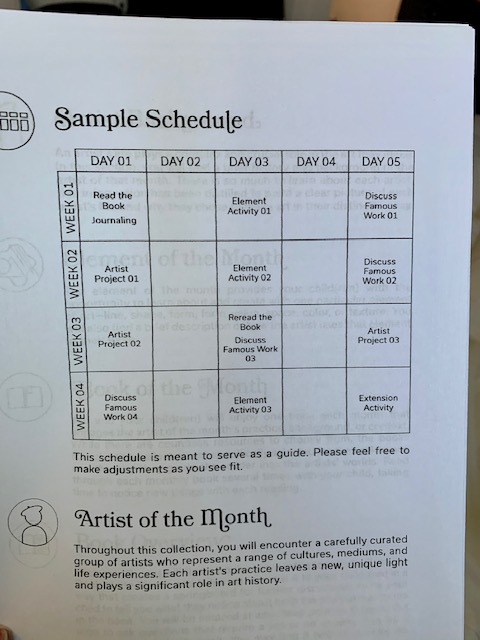 Something I would have really appreciated is some step by step, or at least completed, photos of the artist activities. Because I am not artistic, I would much have preferred to be able to see the visual steps rather than making sense of the written explanations. In the end, we did pretty good following the instructions although we did have to adapt things a little bit! After we did the Painting on Glass activity, the next activity was supposed to be to cut them up into stained glass. However, the girls had worked really hard on their paintings on the "glass" (transparencies) and didn't want to cut them up. Had I read ahead and noticed that, I could have encouraged them to do simpler patterns that they wouldn't mind cutting up, but I didn't. Hailey painted a bunch of little birds on hers since her favourite part of the Frida painting was the birds around the border. She worked really hard on them and it took her a lot of time so I didn't want to make her cut them up. Instead we just put our full paintings up on the window to see how they would shine through and talked about stained glass. Tbey had done stained glass before with other programs so they already knew what it was talking about.
We used this during our afternoon time together and mostly followed the schedule provided. I did end up condensing it a bit by covering more in an afternoon since I was so late getting the books in. We read information on Frida Kahlo, looked at the work of art we were talking about that day, discuss it and then do the project.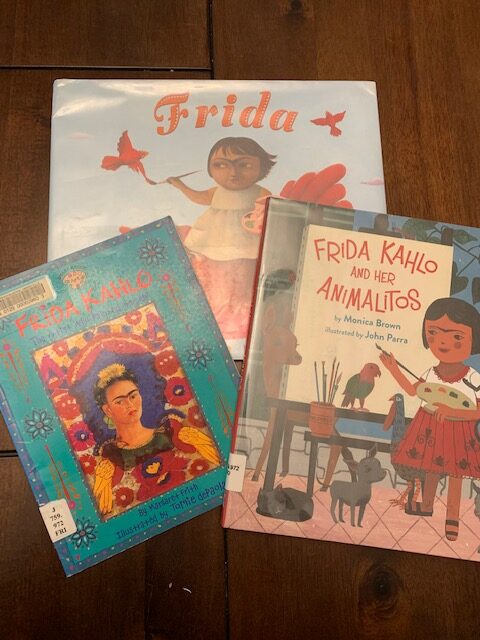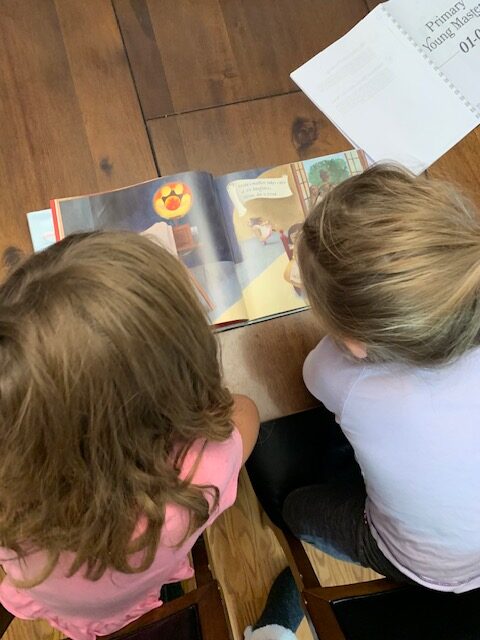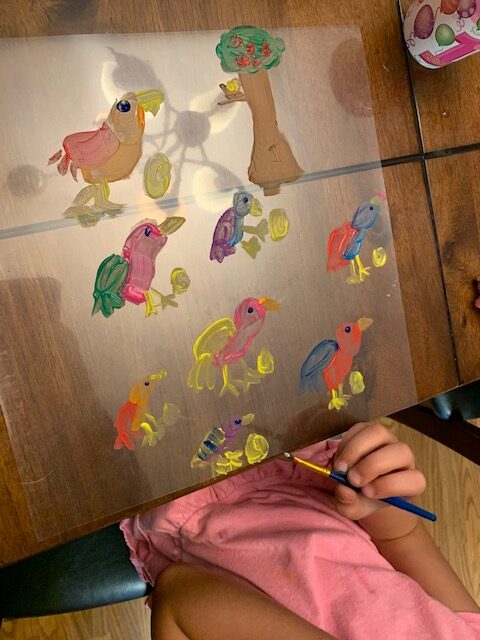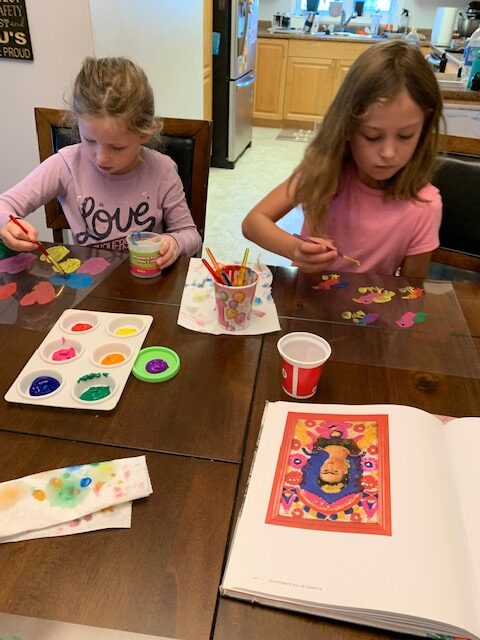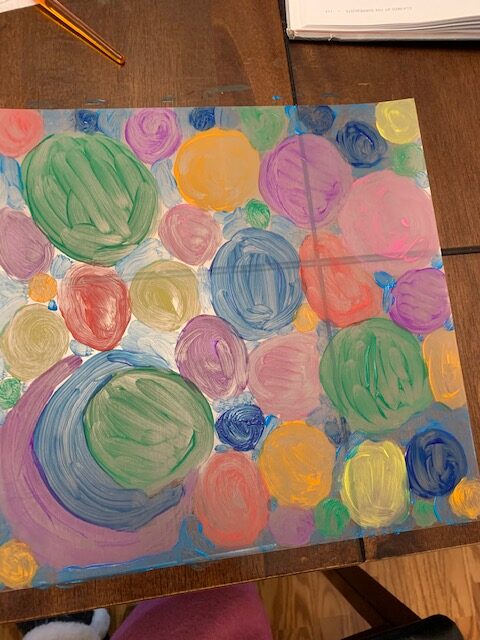 Even with a few hiccups and our books coming so late, this was a fun unit that the girls really enjoyed. We have another project to do from it yet using photos of themselves that I haven't been able to print yet. I will post that on my instagram feed when we do it! I am looking forward to continuing to do Art through Wisdom Wonder Project this year.
Be sure to visit the Homeschool Review Crew Blog to read more reviews on Wisdom Wonder Project!