Whelp, it's August. In some ways that seems crazy to me and in other ways I feel like we have been on break from school FOREVER! We stopped doing anything consistenly after May long as that is when the fires started and we were done completely by the second week in June. I like to take a true break for the summer time to enjoy the few months of nice weather we have in the north and to do as much camping as possible. Make no mistake, there is lots to be learned in the day to day life and while travelling! This year we did do some of our The Great Candadian Adventure unit 1 and writing has been practiced through our Adventures with Archer journals. That is really all the formal "education" that has happened around here but we have read profusely and my daughter has written an abundance of short stories and comics of her own free will.
Because we are away for the better part of the rest of the summer until we start school, I am getting things finalized for fall now. I thought I would share with you what I am doing for Kindergarten for anyone else who is still wondering what to do.
I want to add a little disclaimer here….this is child #2. For my first daughter in kindergarten we did "Teach your Child to Read in 100 Easy Lessons" and a math curriculum I found online and followed loosely. That is it. And she's smart so it was fine. We moved that year and honestly, this was enough. She is not at all behind. The only reason this pile of books here looks more extensive is because my second daughter has been watching her big sister do school for two years and wants books of her own. I plan to just include Sophie into the Social and Science we are doing for Hailey and modify my expectations accordingly. You absolutely don't need to do this many things, but alas, here is what we are using. (Some of this I haven't used before so if I don't like it, I dont continue. But this is what I'm starting with and planning on.)
*Click on the title of a book to be linked to it *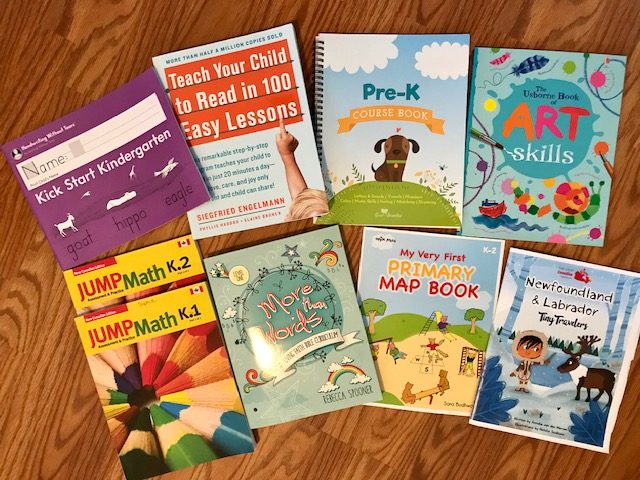 Language Arts
For Language Arts, I have a few things here for Sophie. I am sticking with "Teach Your Child to Read in 100 Easy Lessons" because it worked so well for Hailey and I believe it's process works. It also starts from the place of assuming children know zero letters and sounds yet as this book teaches them first to identify a letter by its sound not its name. I wrote a whole blog post not long ago about this book here.
I am also using The Good and The Beautiful Pre-K course book for her. She started with a little bit of it this past year on and off and she really enjoys it. She loves having a workbook of her own and the hands on activities in this resource are perfect for her little personality. I do want to address why I am using Pre – K which is 2 levels below Kindergarten with The Good and The Beautiful. For one, this is an advanced program and I 100% recommend you take the placement test for your child before ordering. This is proper Kindergarten learning. But really the most important reason is this is where she is at. The beauty of homeschooling is you don't have to check of boxes, you just need to teach your own child to mastery. Choosing a resource above their ability doesn't help anyone and will leave you both frustrated. So I wasn't looking at grade level, I was looking at where she was and what she needed to learn right now. I also know there are lots of different opinions (and strong ones at that) out there on the internet about this program as it is written by a Morman woman. I am not Morman. I am well aware of the difference between Morman beliefs and mine as a Bible believing Christian. I can't even tell you the hours I have spent in thought and prayer and conversation over the decision on wether to continue with this curriculum after some articles I have read speaking out against it. I have spoken with many other Christian homeschoolers who feel confident to continue with it. I do not feel any conviction in my spirit leading me to not use and I have been nothing but pleased with it. I feel I can use my discernment with this resource as I would with a secular one. But each family needs to decide for themselves where they feel the Lord leading them in regards to their curriculum choices and what you feel comfortable with. I feel very free to use this resource and didn't want to leave it out of this review just because there has been some criticim of it's author.
I also decided to go back to very basic spelling practice with my girls and for now am planning to use Handwriting Without Tears Kickstart Kindergarten for Sophie. I will say, this is the one area I feel like I lacked with Hailey. Because she showed interest in these things and started writing at the age of 3, I wasn't fussy about how she made her letters and as I think back, she never really did learn to form them properly. It shows now. So I want to start properly with Sophie and back the bus up with Hailey. I have heard amazing things about this program and am excited to use it. The only thing that jumped out at me as I flipped through was that they don't use the two solid lines with a middle dotted line to teach printing so I am a bit unsure how that will work and transition to their other workbooks. I am still going to try it out as I have heard so much raving about it. Time will tell what I think and I'll keep you posted!
Of course we will be reading aloud like crazy because we love it! I haven't selected all of our read alouds yet so included none in the photo. I have little readers ready for her should she get to the point she is ready for them.
Math
For Math I am using my tried and true Jump Math. This is a easily laid out program that comes extremely close to meeting our provincial learning outcomes. I just wrote a long post about this here so wont get into detail on this resource.
I will also add in lots of games with cards, dice and dominoes as well as just her favourite games to play. Any game involving dice and moving spaces is using couting and is beneficial. Using a dice enough gets a child familiar with subatizing numbers 1-6 without you even having to teach them!
social studies
Now, did I do Social Studies with Hailey when she was in kindergarten? That's a hard no. I taught her her phone number and safety things like how to cross the street safely, how to call 911, etc and those are technically kindergarten social outcomes but I did not use any resources.
Sophie is, in some ways, being exposed to more as the youngest child. She is going to participate in us learning about Canada this year. I decided to do this because I think it's so important to know about this beautiful country we live in and they have travelled coast to coast so many times it's good for them to know more about the provinces. I was so happy when I found The Great Canadian Adventure as it was exactly what I was looking for in a program to cover each province in Canada AND it had seperate workbooks for pre k / kindergarten so Sophie could follow along. I LOVE that there are Tiny Traveller notebooks for her to get familiar with the names of each province and practice applicable skills (like printing) in each workbook. Each workbook also includes crafts and a recipe specific to each province. This does not cover strictly Social Studies but some printing and science as well. The suggested book list gives me many ideas of picture books to get from the library to learn about the province as well. I couldn't be more pleased so far with this resource and in fact, have a code FROMKRISTIN to give you 10% off your order. This resource is good for any child, not just homeschool children, and can be purchased in bulk or as a monthly subscription. Stay tuned for a more in depth post on this once I complete a unit or two.
I also ordered her My Very First Primary Map Book from Candian Home Education Resources to help get her familiar with reading a map and her own community. It is a short workbook that wont take many lessons to complete and is full of lots of fun little activities for her to do.
bible
For Bible, this is part of the normal rythmn of our house and not necessarily a focused class time. We do devotions every morning from various devotion books. Currently we are working through "I AM" which discusses 40 names for God. There is a version of this for younger pre – k kids as well. We worked through God Always Keeps His Promises by Max Lucado last year and enjoyed it a lot. To be honest I am still looking for something that goes a bit beyond the Bible stories we read in every devotion book for kids but I do like how these ones take it a littel further with some reflection.
Both my kids also attend Awana so work on Bible memorization through that as well as a family passage we are working on. (Currently Psalm 100)
This year I am trying out my friend Rebecca's new Bible curriculum More Than Words for both girls. It may be more "Charlotte Mason – y" than I would normally gravitate towards but I know she does beautiful work and has a heart for children to develop a deeper relationship with Christ. I am so excited to check it out and will post more about this resource at a later date as we begin to use it this fall.
science
For Science she will be joining in as she wishes with what we are doing with Hailey and will have her on notebook to cut and paste the worksheets into. I did no science with Hailey in kindergarten and won't force Sophie too but assume she will want to participate with us.
extras
Honestly I am not much for scheduling or facitlitating the extras. I mostly outsource PE to things like gymnastics, koo koo kangaroo, swimming, skating, etc and Art to their own colouring and some local art classes. I do have a few Art resources and a Nature journal I am checking out this year.
The one in the photo is and Art book by Usborne (which I sell so contact me if you are interested). The others I have not received yet but have ordered are The Good and The Beautiful Nature Notebook and The Good and The Beautiful Creative Arts and Crafts. I would love to do better in this area but time will tell if I do.
We are also learning Sign Language in our home this year with various books and flash cards of ASL (American Sign Language).
I also ordered each child the Keys for Me from Keyboarding Without Tears to begin to learn typing skills and practice their letters. I started with the beginner level for both since neither has done any work on the computer before. I am hoping that this is something each can work on independently while I do the others Language Arts Lesson.
so that's that
It seems like a lot all written out in a blog post like this but it really isn't. I dont want to do much more than an hour a day with her of formal schooling and wont push her to do anything beyond her Math and LA. I (shockingly enough) don't feel bound to my start of the year plans and will adapt as the year goes. I want a positive learning experience for all of us and strive to accomplish that. Follow along with me on instagram (
https://www.instagram.com/ ) to watch how it all unfolds throughout the year!
If you'd like to see inside any of these books leave a comment here and I'll happily do a look through in my instagram stories.
Have you used any of these resources before or have them on your list for this year?