So I've had this post planned for quite some time now but do you know what keeps me from blogging more? It is my lack of creativity. I can't come up with catchy titles and I don't have the skill of taking pretty photos so I let that deter me from writing. I have the knowledge and content in my head but lack the pretty way to present it. I need to let that go and get all the things in my head down! So if you're looking for a pretty blog, this is probably not it but I hope to provide you good content!
What I want to share with you today is an incredibly cost effective and interesting way to teach your kids about history and social studies. BOOKS! If you have a library card you can go a long way to teaching your kids about history, especially your young kids. I know so many people worry that they have to know a lot or spend lots of money on big curriculum to be able to homeschool but that is simply not the case. Even when I was teaching, for the most part for Social Studies we would read from the textbook, discuss and answer questions. We do that with library books here at my house and the girls don't even know we are learning. They ask for these books all the time, not just during school!
These books are totally applicable as read alouds for non homeschoolers as well!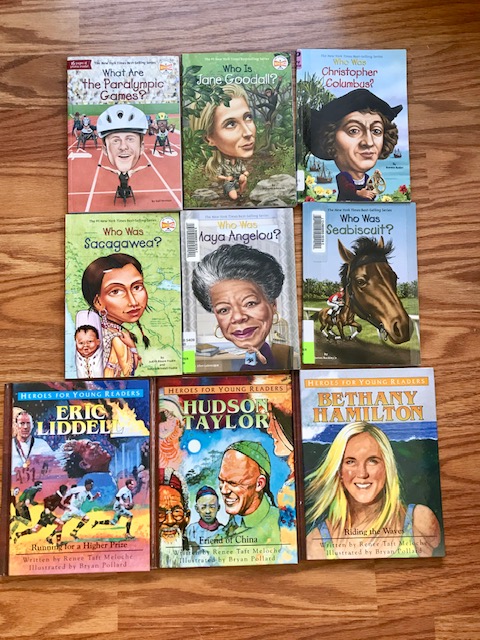 Who HQ Book Series
These books are phenomenal! They are all approximately 10 short chapters and the perfect amount of information for young kids. Both my 6 and 8 year olds love them. The books give a general overview of the lives of many different well-known people, places or things from history (or even the present). They typically begin with the birth of the person, touch on their childhood and then focus on what they are known for. There are hundreds of these books available. They are less than $8 to purchase on Amazon and also available through your library. I purchase the ones I know we will want to keep and order the rest through the library. We have all had different favourites so far but we all LOVED Helen Keller! I can't wait to read the one about the Paralympic games and Steve Irwin. Hailey has loved so many she can't pick a favourite! Sophie liked Sacagewa the best so far and is really excited for me to read the one on Serena and Venus Williams. There are people from different eras in history and different walks of life. Reading Maya Angelou gave us a really good jumping off point to discuss racial issues as that booked talked about the segregated seating on busses back then.
Conversation is such a huge part of history and social studies. We need to talk with our children about the things we read and why it is important for us to know that as well as how it impacts us today. Why do we need to know about racial segregation in movie theatres and busses? Well, I think at this time in history we can see that it's important to understand what different people groups have gone through and why they may have the feelings they have. Knowing and understanding history should help us to not make the same mistakes twice and to appreciate where we have come from and how things have improved.
I can't recommend these books enough, even if you aren't homeschooling. Don't leave all of these important conversations to the teachers to have with your children. These are short reads and will be awesome conversation starting points for you to have with your kids!
HEroes For Young Readers Series
We recently discovered this series as well, all based on different noteworthy Christians. These are the younger child equivalent to the Christian Heroes: Then & Now series (which I am also excited to read). These younger version books are hard covered, illustrated on each page and written in rhyme. They are a one sitting read, no chapters or anything. My girls absolutely love these books! So far their favourite is definitely Bethany Hamilton although Hailey really enjoyed Amy Carmichael as well. I think they are all easy to listen to, quick to read, catchy and interesting. They all highlight the good each person did for people and for God throughout their lifetime.
To be honest, I have not checked my library yet for these as I wanted to own them. I have just been slowly acquiring more through Amazon. I keep them in our morning time basket and often read one when we finish our Bible time.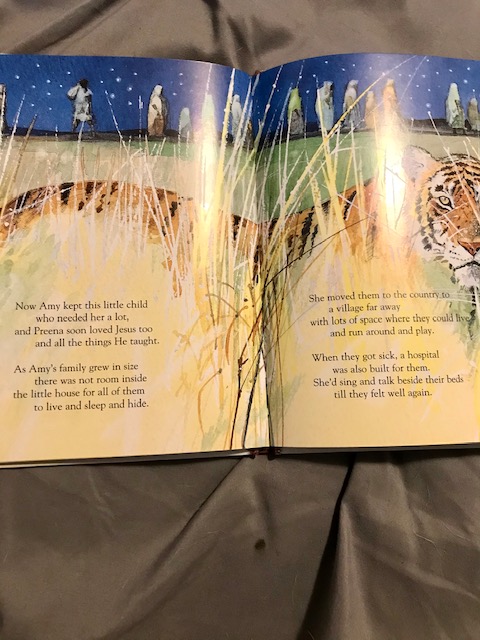 Christian Heroes: Then and Now
These are not pictured in the above photo, but I wanted to make sure I mentioned them as they are also an awesome addition to read alouds for history and social studies. I have the book about George Muller here just waiting to be read to the girls. If Sophie was my oldest I would not read this series yet. I know Hailey would enjoy it but I am torn if I should wait for Soph to be a little older and that's why I haven't read this one yet. But for anyone with older kids, these are phenomenal. I want to read them all myself to learn more about the lives of these amazing people.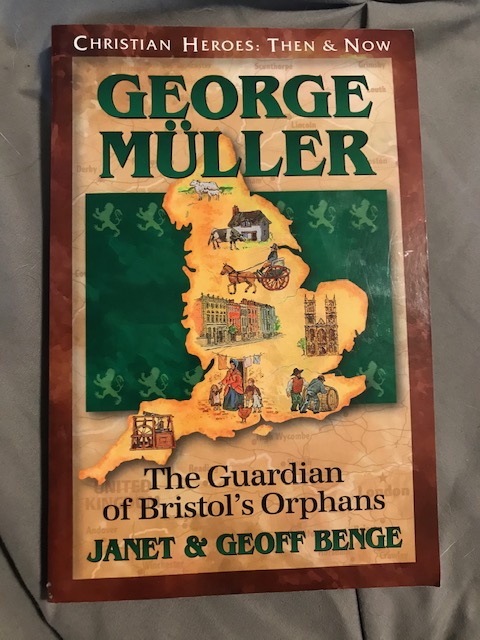 Let the conversation flow when you are reading these books. Don't be stuck to a timeline and getting through the book quickly. Let the kids ask questions, look up the answers you don't know, follow any rabbit trail it may lead you on. For instance, my kids became intrigued by Braille after we read about Helen Keller. I ordered a bunch of books on Louis Braille, we watched videos on both him and Helen Keller, and I ordered books actually in Braille so they could check it out. Let those inquistive minds inquire!