Terry Fox is considered to be a Canadian Hero. Most Canadians know who Terry Fox is and at least the basic points of his story. Every fall, young children all around Canada participate in the annual Terry Fox run at their schools to raise money to go towards cancer research. This keeps Terry and his story at the forefront of many of our minds, especially those of young Canadians.
My youngest daughter has been a fan of Terry Fox ever since she first heard about him when she was in kindergarten. One of the things I loved about her obsession with Terry was that her little mind would mix up his name and she called him "Fox Terrier" for years. It was so adorable! Thanks to her, we have read every Terry Fox children's book out there, watched the videos on you tube and learned as much about him as we could.
Who was Terry Fox?
Incase you haven't heard of Terry Fox and his Marathon of Hope, he was a British Columbian teenager who was diagnosed with osteogenic sarcoma in his right leg at the age of eighteen. Eventually, that leg had to be amputated due to the severity of his bone cancer. The night before his surgery, his old coach gave him an article about an amputee who had run the New York City Marathon. Terry said he would do something similar one day. Terry had been a dedicated, active teenager before his diagnosis, even winning athlete of the year in his grade 12 year, and he was determined to still be an athlete after he received his artificial leg. As a young man on the cancer ward, Terry became very aware and touched by the suffering of other cancer patients. Experiencing the suffering cancer causes, the wheels began turning in Terry's head about how much more funding and research is needed for cancer.
Terry endured months of treatment for his cancer, and during that time became involved in wheelchair basketball with another Canadian national hero, Rick Hansen. This allowed Terry to achieve athletic success and a national champion!
Terry's Mission
As Terry began to learn how to walk with his prosthetic leg, he continued to push himself athletically and started running. Eventually he got to the point where he ran a marathon! After this, his idea for the Marathon of Hope was born. Terry decided that he wanted to do a cross-Canada run to raise money for cancer research. He hoped to raise one dollar for each Canadian. The plan was for Terry to start his run by dipping his prosthetic leg into the Atlantic Ocean in St. Johns, Newfoundland and then run a marathon a day before ending up in Victoria, British Columbia and dipping his prosthetic in the Pacific Ocean. The dipping of the leg in each ocean would symbolize the totality of the coast to coast run.
Terry reached out to the Canadian Cancer Society for sponsorship and to tell them about his plans for the Marathon of Hope.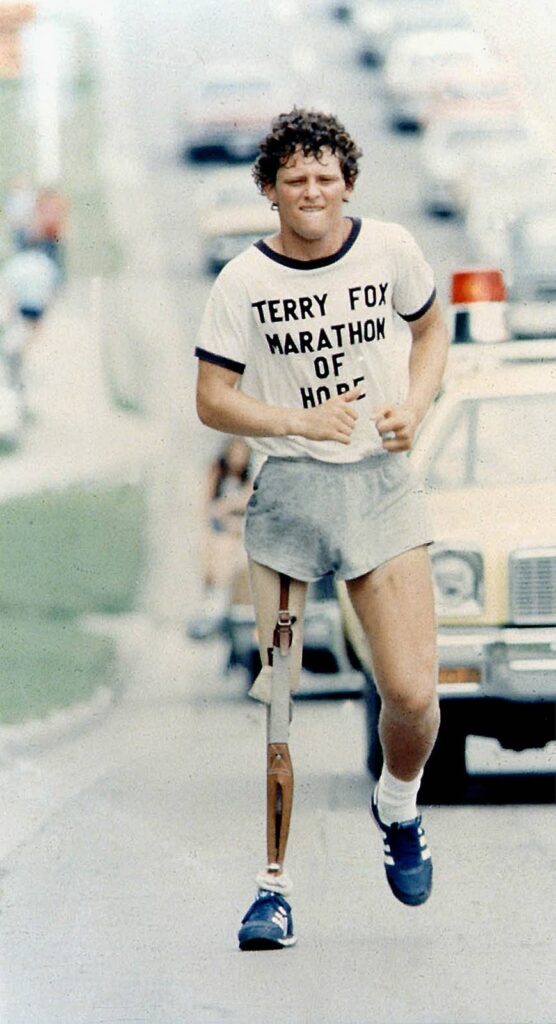 Terry's Marathon of Hope
On April 12, 1980 Terry began his run with his leg in the Atlantic Ocean off the coast of Newfoundland. This is currently one plaque location honouring Terry's legacy, the other bronze statue is in Victoria, British Columbia. While this mission began with very little fan fare, as time went on, the entire nation had their eyes on this young man and what he was doing. Messages of love and support started to pour in for Terry as he ran approximately 30 km a day. Sadly, chest pains began to plague Terry as he ran through Ontario, and his run ended in Thunder Bay. At this point, it was discovered that the cancer was back and in his lungs this time.
​Just before his death, Terry was awarded the Companion of the Order of Canada. He is the youngest person to receive this honour.
Terry's Legacy
At this time, it is decided that Terry Fox's dream will be carried out. Every year, the Terry Fox Foundation organizes a national school run day with the proceeds going to raise money for cancer research. What goes along with the run now, is that on Terry Fox day, the students learn about him, his dream and his legacy as well. His commitment to do what he could to help others makes him a national hero. This Terry Fox activity booklet can help you talk about Terry Fox with your kids. Read some books about him, watch his story, and do some fun activities to help them remember this heroic Canadian and his story.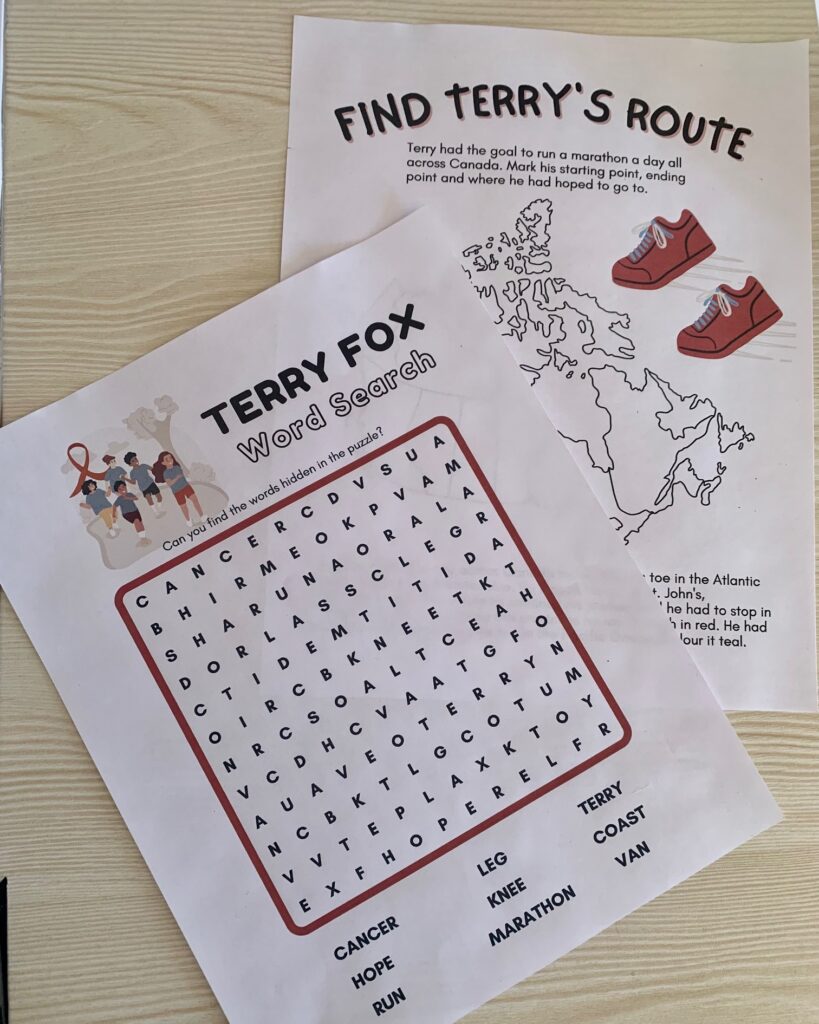 Who is your favourite Canadian hero?