Many people wonder how much schoolwork, if any, their child should be doing throughout the summer months. This seems to be a question that homeschoolers and non-homeschoolers all wonder. I dont know that there is a right or wrong answer to this question but I will share with you what I plan to do for schoolwork over the summer.
first things first
I want to start by saying I am a firm believer in letting kids be kids. There is so much beautiful learning that happens through play: cooperation, social skills, imaginative play developing their creativity, etc. Here in Canada especially, we don't get to enjoy the outdoors as much in the winter and I think we need to let our kids be outside as much as possible in the summer! Beautiful things happen when you let your kids be bored a little bit and not always structuring activities.
That being said, especially in the younger years, kids can lose skills they do not practice. I am going to share what I do for academics throughout the summer for my kids.
Read to them!
If you do nothing else academically this summer, do this!
This is really the number one greatest thing you can do for your child's academic development. This instills in them a love of books, allows them to hear stories they couldn't read themselves, allows them to hear how words are pronounced, lets them hear things read properly with infliction, gives you opportunity to discuss / predict/ analyze text together, and so much more.
Summer typically allows you even more time to do this with kids home all day, or finished of their schoolwork if they are homeschooled.
Choose books that will draw your child in. If you are just starting, you want to probably chose a shorter chapter book that will get to the action quickly (maybe something like My Fathers Dragon). This weekends newsletter will be filled with some of our past favourite read alouds so be sure to subsribe! Make the book as exciting as you can! Do voices, go all out! Pause and explain confusing or difficult to understand words or topics if need be.
Here are my favourite times to read to my kids:
while they are eating their lunch or snack
around the campfire
when we are in the car and need breaks from screens
while we wait at appointments like doctor, dentist, etc.
If you're child is reading independently you do want to encourage them to keep reading. Early readers can forget and lose some of their skills if they do not continue to practice. I would chose books they can read with confidence and that have content that interests them. We want to develop the love of reading as much as possible and not make it a stressful or unenjoyable experience.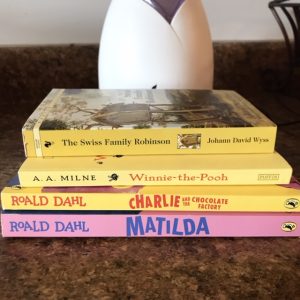 Have them keep a summer journal
This will look differently depending on the age of the child and your expectations will vary depending on your child. For my 7 year old daughter, I have her do this approximately once a week or after something really significant or fun occurs. I have a journal for her that has the top half unlined for pictures and the bottom half lined. I have her draw something fun she has recently done and then write about it. In her journal I dont fuss about her spelling. Before she starts I do remind her about the sentence rules (start with capital, end with punctuation, have a complete thought) and then I let her freely write.
After she writes her entry I will write a response to her there as well. In my response I will try to use some of the words she misspelled and spell them properly. So I am not asking her to fix her errors but I am showing her how they are spelled correctly. This is appropriate for her age. If she had misspelled a word she should know (past spelling word) I would consider having her fix it but wouldn't always do so.
Again, we aren't doing school. We are developing a love of writing and getting down your ideas. We are just keeping the practice doing so that writing wont be pulling teeth when school starts up again. My daughter can get very frustrated with writing if she thinks she is making too many mistakes so this practice seems to work well for her.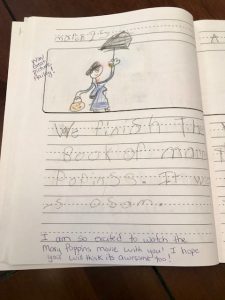 play games!
Playing games is a great way to have kids practicing skills without knowing it! Games are fun for the whole family and an excellent way to spend time together as well.
Different card, dice, and domino games are excellent for math skills. Things like Boggle and Scrabble can be great for language skills. Pit, Qwirkle and games like that are great for sorting and grouping. Skip Bo, Uno, Crib and other games are good for counting skills as well. Lots of fun ways to practice basic skills while also have fun together, which is ultimately what summer is all about!
keep age appropiate workbooks on hand
I do not push these at all. I just keep them on hand for times when they ask for a workbook to do during their quiet time, car drives, rainy days etc. If they never pick them up, thats ok with me too.
When I buy these I am looking for things they can pick up and do independently. You can find these type of workbooks many places like Walmart, Costco, Michaels, etc. I also love the Usborne dry erase books and sticker workbooks for this type of thing.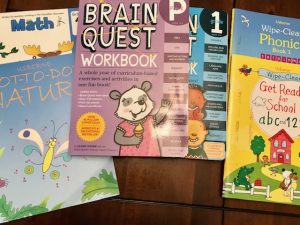 dont stress yourself out
Summer is meant to be fun for the kids and for you. Summer is a great time for family bonding and shared adventures. Let them be little! For most families, some reading out loud and occasional fun writing is more than enough for summer months. If your child needs some skill building or extra work in a certain area over the summer, please send me an email!
If you only do one thing, READ! Pick a good book (maybe from this weekends read aloud list) and read it together. Get into it together and mutually enjoy it!
Happy Summer! May the knees be dirty and the faces sticky!