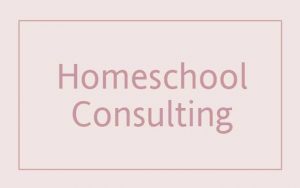 Are you currently homeschooling or or dreaming of homeschooling and wish you could get personalized support?  I am here to help you!  I am a certified teacher with 7 years of classroom experience. I've also chosen to homeschool my own daughters for the last two years. 
I have experience navigating unique learning styles, difficulties and disabilities. I understand provincial outcomes and have a familiarity with different curriculum choices and their pros and cons.
Let me help you navigate the sometimes overwhelming choices and options for you and your children!
Choose from one of the following packages:
Start Up Packages:
Basic: $60 (CAN)
This amazing package will help you confidently select the curriculum that's right for your child/ren.
Includes:
introductory consult to determine your child's needs, your needs and your homeschool vision. 
a hard copy document sent by email with my recommendation. Each subject will have two curriculum choices with links to samples and purchase where applicable.  I will outline pros and cons for each curriculum choice and explain why I chose it for you.
Deluxe: $100 (CAN)
This package is designed for those who are looking for support beyond providing curriculum suggestions. It allows for my continued expertise at a reduced rate.
Includes:
All basic package components.
3 hours of trouble shooting sessions (can be broken into 1-3 sessions).  In these sessions I can help navigate your materials, plan out your full year schedule, or provide additional support as you encounter bumps along the way.
can be in person or over zoom.
→ NOTE – you may purchase additional hours of trouble shooting with either package at the rate of $20 an hour ←
Quick Fix Options:
Provincial Requirements Checklist: $30 (CAN) (per student)
I will provide you with checklists for the provincial outcomes for the subjects and grades you are teaching. 
Reading Assessments: $30 (CAN) (per student)
I will use the Reading A – Z method to assess your childs reading level.
I can provide advice for moving forward to improve your childs reading level.
→NOTE – at this time this package is only available to families local to Northern Alberta. 
1 HourTroubleshooting Session: $30 (CAN)
This is an hour to be used however you need. 
Can be done in person, via video chat, or over the phone. 
Click here to email me for homeschool help! Let's get you sorted out and ready to move confidently forward!
Didn't see what you're looking for? There are plans to add more options to this page as time goes on. If you are looking for something you do not see here, please email me and we can see if we can work something out!