I want to be up front and state this is not a paid ad. I found this product on instagram last year, looked into it, and paid for it myself. I decided to write a post about it on my own accord, as I think it is a lovely product.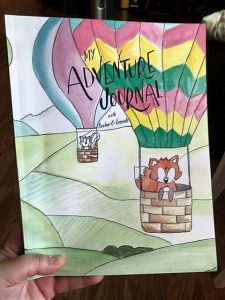 This is the Adventures with Archer journal. Archer is a little forest animal and this resource is written by Karen Stott. This is the one I gave both my girls on their salvation birthdays. It is the Spring 2018 edition because that is when I saw it and purchased it so I wouldn't forget about it. I had just been waiting for the right time to give it to them and I'm so glad I decided that time is now!
I do want to preface this by saying that, in my opinion, this doesn't take the place of devotions and / or Bible study. There is a verse per week in here but to me, this is more of a journal than a Bible study. So I don't suggest you replace your devotion time with your kiddos with this, but use it to supplement it.
We typically do our devotions as the girls eat breakfast in the morning so we have added this Adventures with Archer journal into our bedtime routine. We gather together in the girls bedroom and work on them. I still mostly scribe for Sophie. She is also very into writing herself these days…so wanting me to tell her letter by letter how to write everything she wants to say. This is time consuming and slow, but adorable. Most nights we do some of each and take turns.
There are so many special feature pages throughout this journal that I love.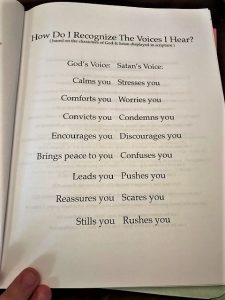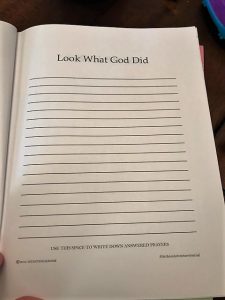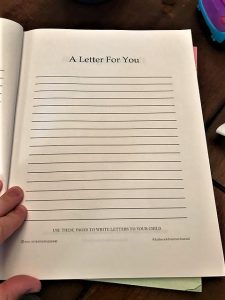 There are just a few of the awesome extra pages in this resource. I love the extra's as much as I love the daily pages!
Each day of this journal is the same. The verse of the week is at the top of the page and then a section for the kids to copy it (this helps commit to memory). With Sophie, I just read it to her and have her recite it with me. The daily work then proceeds to ask various journal prompts like good things that happened that day, what was hard, what they are praying for, etc. The last questions are "how do I feel today" and "what does God say about how I feel". And to help with that last part there is an appendix in the back sorted by emotions with verses from the Bible for each emotion.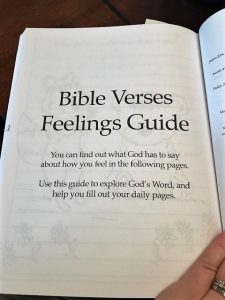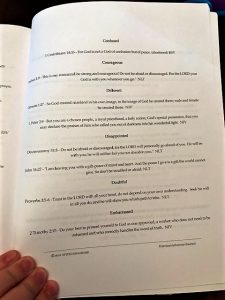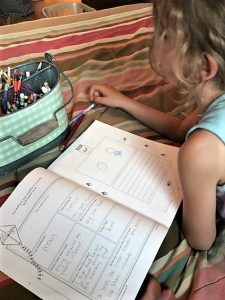 The day ends with a page for drawing a picture and journaling. I have decided to use this instead of our typical school journal and just let this be Hailey's writing practice. Sometimes I scribe for them if they are tired and / or have lots to write. Usually I write most of Sophie's and then she asks how to spell a few words to write at the end. There are also little doodles to colour. It's an awesome way for the kids to reflect creatively back on their day.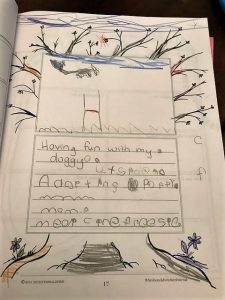 I can't sing the praises of this little journal enough. I love ending our day together like this, with quiet reflection and enjoying each others company. I love that it allows my girls to reflect on how their day has gone and what they want to pray for. I LOVE that they get to think about what God has to say about how they feel. After we finish up, they usually share what they wrote and drew with each other and then we can pray together for each other's requests. Usually Hailey writes her own as I help Sophie, unless Hailey is really tired and needs a scribe as well. I hope you found this review to be helpful!
The last version of this journal made was Advent 2018. I spoke with the creator Karen Stott today and she said the next new one would be launching for Fall 2019 so not too far from now! If you follow the instagram page for this journal, that will be the best way to know when the new edition arrives. Or you can always go there and shop the older editions like I am using. Some of the older versions can be purchased on amazon.
I am going to show this journal more thoroughly on instagram this weekend so if you have anything you really want to see more closely or any questions about how we use it, leave them in the comments and I will address them in my instagram stories!
If you end up ordering one of these, please let me know!
And just a quick reminder to subscribe to my newsletter! I am hoping to have it come out every second weekend. This weekend I will be sharing our favourite read aloud chapter books and including a printable read aloud record sheet (if I can mange the technology to add it!)