Most of us know the importance of hiding God's word in our hearts. We have heard that so many times, how could we forget! Yet I find so many forget their role in helping their children with this task. Did you know that young children have the capacity to memorize scripture as well? In fact, kid's memories are often better than adults! There is no reason your child can't start memorizing short scriptures not long after they are confidently speaking, and build on from there. I strongly believe that God's word will never return void and we will never regret time spent discipling our children in this way. Let me share with you some of my favourite tips for helping your kids memorize scripture.
Pick a passage
What passage you pick will be dependant on the age of your children. You can start with something simple for young children like "all have sinned" from Romans 3:23. A 2 year old could memorize that!
Don't shy away from larger passages over a period of time. Last summer we memorized Psalm 23 together as a family and my daughters were 4 and 6 at the time. We worked at it over a couple of months and they both have fully retained it even now!
You'll want to look at different versions of that passage and pick one that is easy to understand and easy to memorize. When you are just starting out you may want to steer away from words your child will struggle to pronounce. Don't feel like you have to avoid words they may not understand, this can be an excellent teaching opportunity for you to explain God's word. Look through the passage and see if you can come up with some fun actions for the words in it.
Catch them while you can
Once you have settled on a passage it is time to begin! I find the easiest time to practice scripture memory work is while we are sitting at the table for meals or colouring or anything else. They are already sitting still. They are already in my presence. I have their ears and their attention.
I would begin the first day by reading the whole passage to them and giving them the general idea of what it is about and what it means. You could maybe even talk about why you chose this particular passage if that information is pertinent.
take your time
Expect this to take time. You'll want to chunk the verse into small parts, maybe even sentences.
For instance when we did Psalm 23 last year our first chunk was "The Lord is my shepherd I shall not want". We practiced that for a couple days. So when we were having breakfast I would say:
"Ok girls let's practice Psalm 23. Say it with me now. 'The Lord is my shepherd I shall not want.' Ok let's say that again. Can you say it without me? Do you know why we call the Lord our shepherd? (explain) What does it mean here when it says that we shall not want? (explain). Ok let's say it together again."
And then I would probably say it with them another time later in the day when they were at the table again. Keep it super casual.
Once you can tell they know that part, introduce the next chunk. I would do this the next day by adding it on to the current part and reciting it all together a few times.
make it fun
Even as adults we know that anytime we enjoy learning something, we retain it far easier. So the more fun you can make this for your kiddos, the more they will enjoy and retain! For example, if you are teaching them the books of the Bible you can teach them the song. Or you can set your verse to a song OR find it already set to a song by a company such as Seeds Family Worship . Another great resource is the Corner Room on Spotify which has Psalms set to music. I use this often as background music when we are working.
Actions are a great way to help kids remember verses and also helps you cue them without having to say the word if they are stuck. For instance, the second chunk we learned of Pslam 23 we learned was "He makes us lie down in green pastures". So we put our hands together and laid our heads on them when we said the word lie.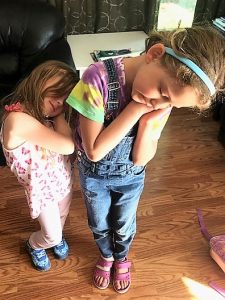 Or later on in the passage when we learned the chunk "you annoint my head with oil" we would hold up one hand over our head and pretend to be pouring something over our heads while we said that line. You do not need an action for every word but toss them in when you can find one that naturally fits.
Another way we make it fun is making a puzzle out of it. This is so easily done by writing the verse on a piece of construction paper and cutting it up into chunks. There is so much you can do with this. You can have the kids put the puzzle together. You can have it facing up and have them read it a few times and then turn one chunk over and see if they can still read through the verse (knowing the flipped over part off by heart).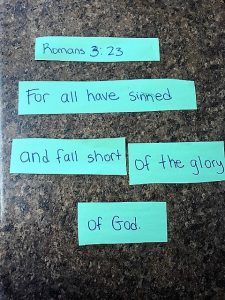 This can also be done on a dry erase board where you write out the verse, read it over out loud a few times and then start erasing one word at a time. As you erase a word you then read it through again and see if the child can still read it without the erased word. You do this until all words are erased and then they know the verse! Don't forget to learn the reference as well!
repeat repeat repeat
Don't expect them to learn it in the first shot. Some will, but many wont. Practice, practice, practice. Say the verse over and over to them. Do this over a course of many days instead of frustrating them in one day. Make it fun and praise them on their memory and hard work. And be sure you are learning it along with them!
Do you feel ready to give this a try?
I am going to start memorizing Psalm 100 with my kids this week. Now that Awana is over and they aren't memorizing scripture for that, I want to do more passages as a family. I am going to use the version from their own personal Bibles (NIrV) and would love to have you join along if you would like! I will post the version below and also on my instagram. If you aren't following me on instagram (@from_kristin) go do it! I will post live clips of us practicing over the next few weeks.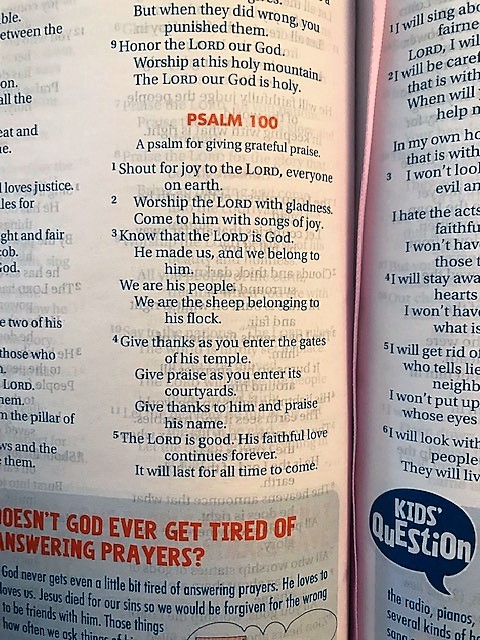 So this is the passage we will be working on for the next while if you'd like to join us. If you do I would love to see you post about it on instagram and hashtag #fromkristinscripturememorization so I can see who is joining! Psalm 23 was also a great one if you think that would be easier to start with!
Let me know if you try any of these tips for helping your kids memorize scripture.
I know so many of you do scripture memorization with your kids so please leave your tips in the comments for everyone to read!